LOCATION AND FEATURES
Camp de Base "managed apartments"

Grande-Pointe Ski Lift

Grande-Pointe House

Maillard Ski Lift

Les Caches de la Grande-Pointe "managed apartments"

Gondola Lift

Le Transit

Le Massif de Charlevoix Train Station

Railroad

Learning Zone (Ski & Snowboard)

Club Med Québec-Charlevoix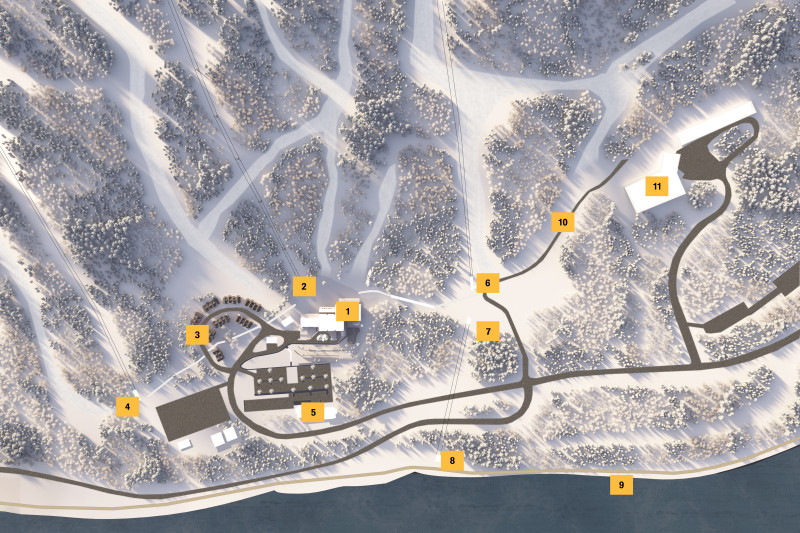 MANAGED APARTMENTS
120 units starting at $300,000 plus tax
Standard Unit
398-452 sq. ft.
Family Unit
516-613 sq. ft.
RENTAL MANAGEMENT
Turnkey formula for
management and rental
Maximum 36 days occupation
per year for owners
For qualified investors only
Are you a qualified investor
(based on the AMF's criteria)? check here
TO GET THERE
Québec city: 1h10 (95km)
Montréal: 3h50 (360km)
Ottawa: 5h45 (540km)
Boston: 7h45 (705km)
New York : 9h30 (920km)
Toronto: 9 h30 (905km)
PLACES TO VISIT
Baie Saint-Paul : 25 min
La Malbaie: 60 min
Isle aux Coudres: 45 min
Grands Jardins National Park: 45 min
Hautes Gorges de la Rivière
Malbaie National Park: 75 min
Côte de Beaupré: 40 min
Tadoussac: 140 min
Village of Petite-Rivière-Saint-François:
5 min
River and mountain view
Outdoor pool and jacuzzi
Training room
Shared lounge
Play area for children
Indoor & outdoor parking
Ski lockers
Bicycle storage
VIEW OF SAINT LAWRENCE RIVER
Wake up every morning to a breathtaking view of the majestic river, directly from your hotel room. An unforgettable experience!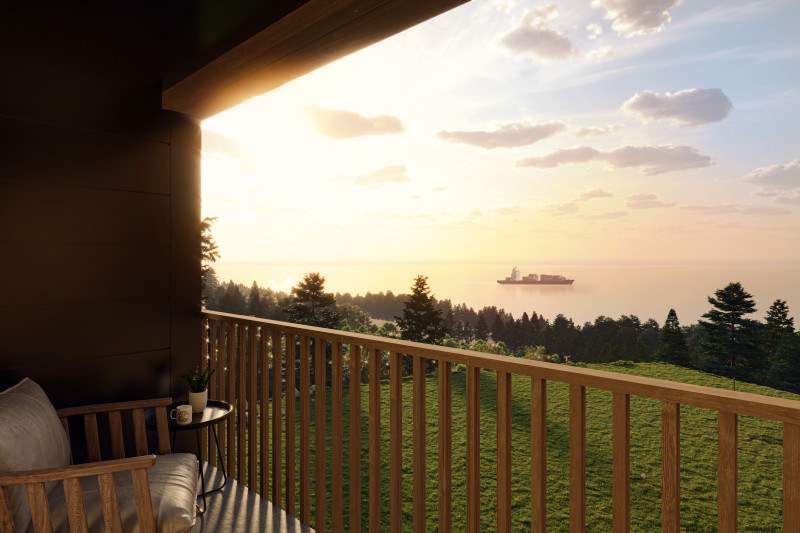 SKI IN, SKI OUT
Enjoy the ultimate skiing experience during a stay with us. Thanks to our ski-in, ski-out access, you will step out of the hotel and get right onto the slopes.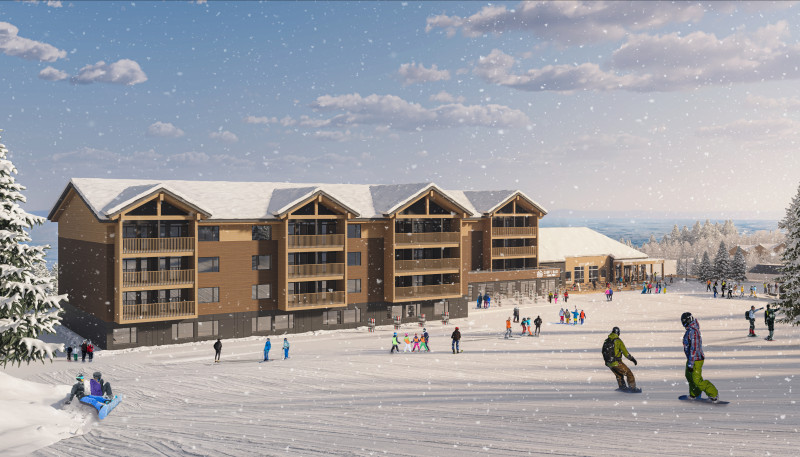 DIRECT ACCESS TO BIKING AND HIKING TRAILS
Enjoy convenient and easy access to hiking and mountain biking trails. There are more than 20 km of hiking and running trails, all through the diversified natural ecosystems of the area. For mountain biking enthusiasts, Le Massif de Charlevoix operates a network of over 40 km of varied trails, including a 12-km downhill trail with exceptional views of the region and the river.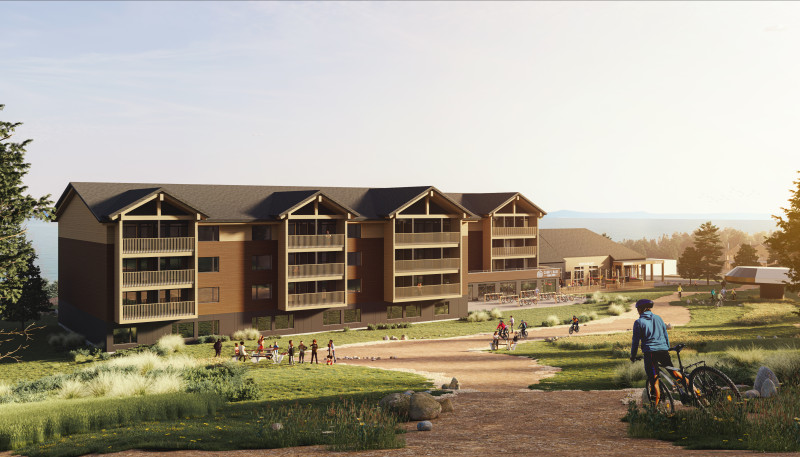 WHAT TO DO AT CAMP DE BASE
In both summer and winter, visitors enjoy the great outdoors and the many cultural and sporting events that take place on the mountain and in the coastal towns along the St. Lawrence River. All reasons are good to do sports, have fun and recharge in a picturesque setting, in perfect harmony with nature. So make yourself comfortable at Le Massif de Charlevoix and enjoy the changing seasons and their many wonders. Because life here is certainly a long, peaceful river.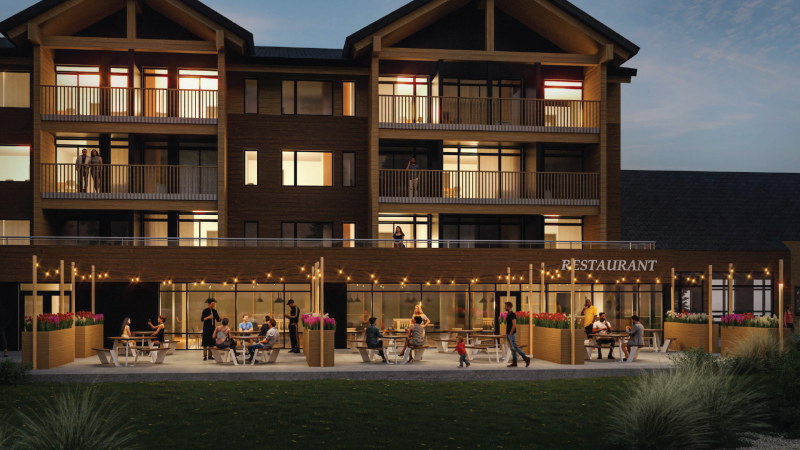 MOUNTAIN
Look no further than our managed apartments project to enjoy direct access to the best activities of the region, for an unforgettable vacation in all seasons. Access a multitude of summer and winter activities.
WINTER ACTIVITIES
Skiing and snowboarding: Longest vertical drop east of the Canadian Rockies with an annual average of 650 cm of natural snow

Sledding: Longest traditional sledding track in North America

Ski touring and off-track skiing

Cross-country skiing

Snowshoeing

Exceptional food and beverage offerings, including a mountain bar perched on one of the peaks overlooking the St. Lawrence River.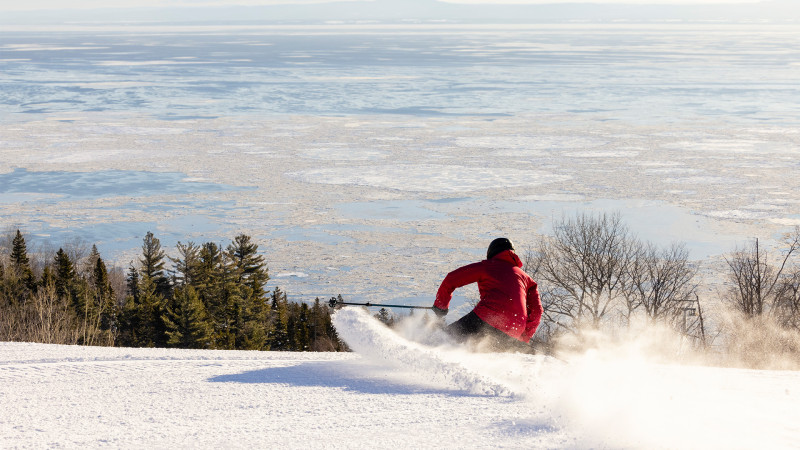 SUMMER ACTIVITIES
Biking: A network of over 40 km of varied trails, including a 12-km downhill trail with exceptional views of the region and the river

Hiking and running: Over 20 km of trails through the diversified natural ecosystems of the area

Scenic gondola rides

"Le Vol de l'oiseau mécanique", the first immersive experience on a mountainside in the world, is a unique night-time activity not to be missed on summer evenings
WHERE TO EAT
Le Massif de Charlevoix's restaurant spaces (summit and base)

Camp Boule Restaurant (mountain bar)

Base Restaurant (Grande-Pointe Camp de Base, coming soon)

Club Med Québec Charlevoix Restaurant
CHOOSE CAMP DE BASE
Want to know more about Camp de Base managed apartments?
Register to be on our list of potential buyers/investors. Our units will be available for reservation soon!
Contact our sales team
info@immobiliermassif.com
T: +1 888 910-2109
Monday to Friday from 10am to 7pm
Saturday from 10am to 5pm
SALES OFFICE (mountain summit):
185 Chemin du Massif,
Petite-Rivière-Saint-François, QC G0A 2L0


To be "qualified," an investor must meet one of the following criteria:
Alone or with a spouse, have more than $1,000,000 in financial assets (cash and investments), net of debt and taxes. Home or other real estate are excluded from that amount.

Have assets of at least $5 million (may include home and other real estate; net of debt).

Have a net income before taxes of more than $200,000 ($300,000 if combined with a spouse's net income) for each of the two previous years and reasonably expect to exceed that income in the current year.